Brigitta
Hi everybody, I'm Brigitta. I was named after Brigitta in The Sound Of Music- my mom loves that movie! I think my mom is kind of silly sometimes but she rescued me so I'm happy to be here. See the 12 on my shoulder, she says that is the only reason she picked me out of all of the sad horses around me. I am the only girl horse in the barn so obviously that means I'm the best. You can always give me a treat but be careful of your fingers, I get so excited that sometimes my big lips get little fingers by accident. SHHH… don't tell Luke, he gets kind of jealous.
Makaday
Hi there, I'm Makaday. The only black horse in the barn. Zippy and I like to pay together outside when we aren't working. Phoebe and I were the first animals in the Red Skye program. We did all of the therapy and lessons on our own. Now that I have a lot of new friends here I don't have to do all the work on my own. See the Red Skye logo? That's me! Before being a therapy horse I was a show horse. I would go to competitions and run through the woods, jump over jumps, and even do that fancy Dressage stuff. Yeah, I'm that good. Now as I get older, my joints just aren't what they used to be so no more jumping. I still teach a lot of children and adults all about riding and taking care of horses because I am very patient even when they don't do it quite right. Come visit any time, I will always say hi!
Zippy
Hey you! Hi! How are you? What do you have right there? Is it for me?! Oh, I'm sorry, I'm Zippy. I just get so excited to meet and greet new people that sometimes I forget my manners. I am the oldest pony here, but you would never know it by my energy level and curiosity! I do a little bit of everything here at the farm- lessons, therapy, team building, I even go to horse shows! When my best friend Makaday and I are together, which is almost always, we like to run and play, and even take a nap next to each other. You can find out what me and my pals at the farm are up to by looking at the Red Skye Facebook Page. I try to get my picture on there as much as possible but Niki and Claire say I have to share.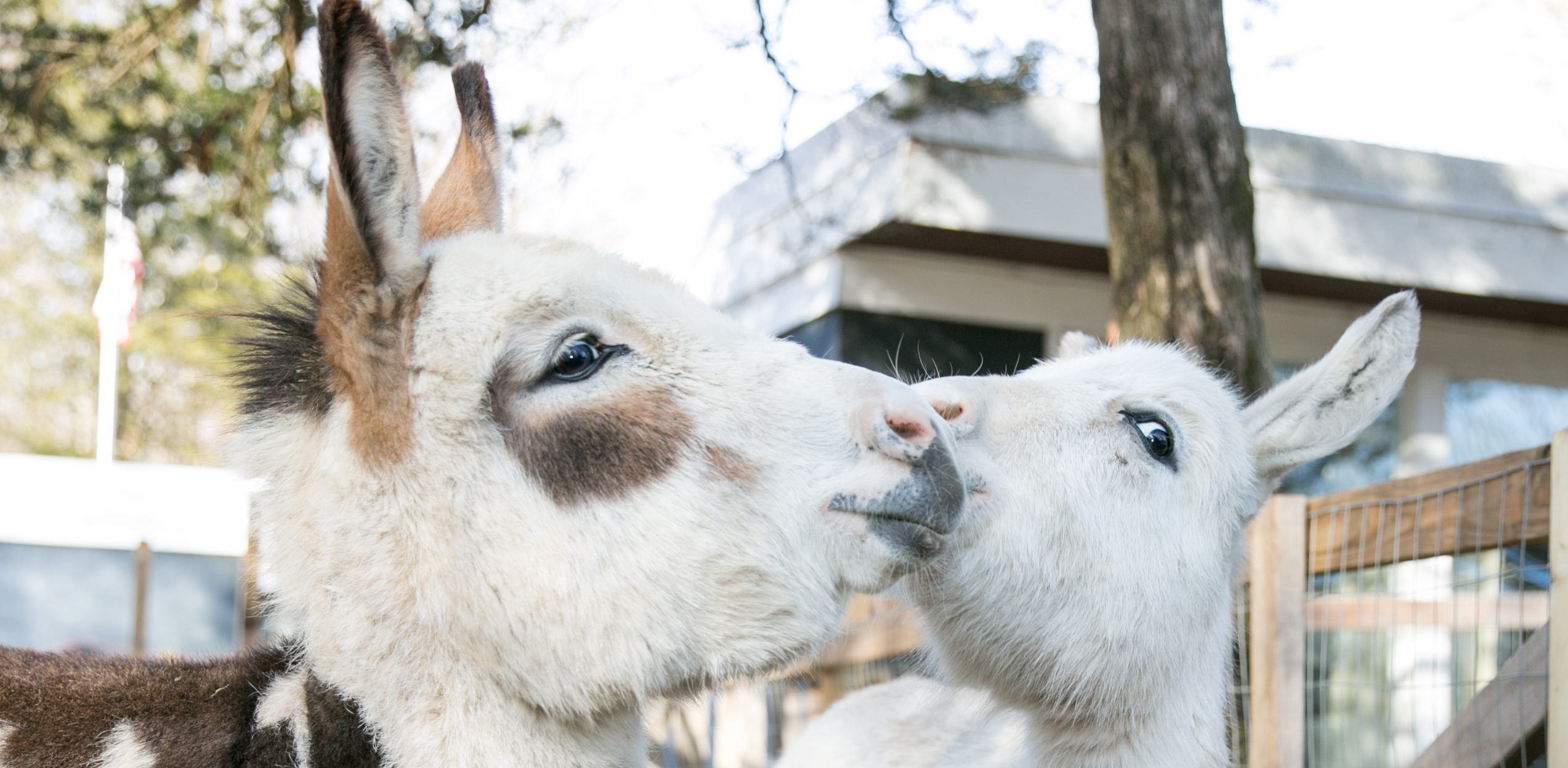 Josie
Hey there, I'm Josie. I would love to talk to you! I love to play with things like hoola hoops, balls, pool noodles, maybe your shoelaces. I am the only spotted donkey in the group which of course makes me special and unique. Don't you love my pretty colors? Bogo and I are part of the Red Skye to Go program where we go visit schools and community centers to make people feel better- well that's what Claire and Niki say, I think it's just a great adventure with lots of treats!
Bogo
Hey guys, my name is Bogo! I just love to meet new people! I'm so glad you stopped by to say hello! I am the only white boy donkey here in the Donkey Den, I'm also the youngest. I was born here at Red Skye so this is the only home I have ever had. My mom, Darma, says that when she was pregnant with me in her belly, she and the rest of the donkeys moved here from their other home. Have you ever moved from one home to another? Anyway, I love to play with my sister, Josie, she is so much fun. She is one year older than me so I look up to her to see how I should act. We are both part of the Red Skye to Go program where we get into the trailer and go on new adventures to meet people. You can imagine how much I love that since I love meeting new people- oh and I love all the snacks I get when we go places.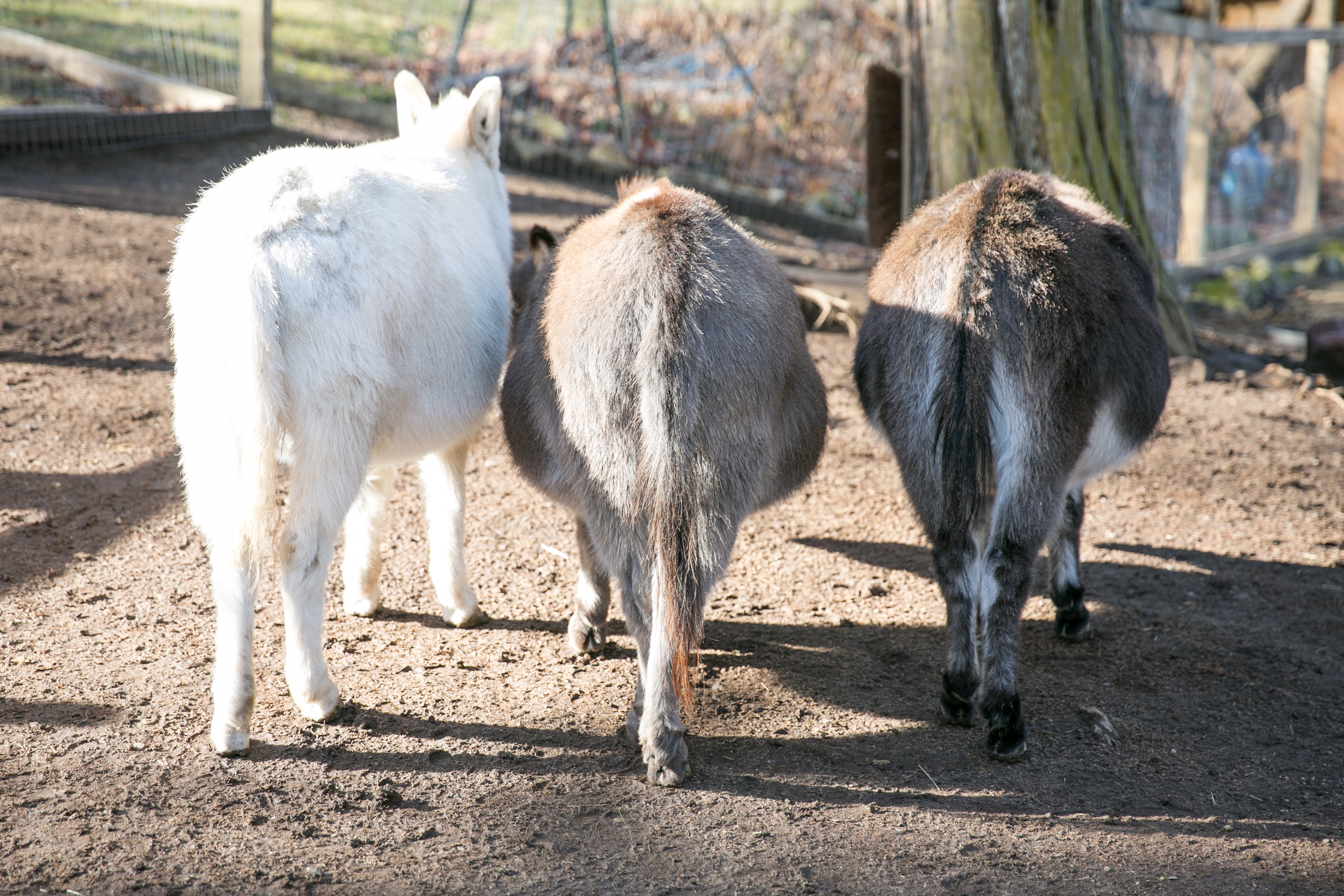 Darma
Hello there, my name is Darma. I am the only all white girl donkey here. My friend Frannie and I like to hang out together and nap in the sun. See that little rascal over there? That's my son Bogo. He has lots and lots of energy and wants everyone to play with him all the time. I have to explain to him that sometimes the grown-ups don't want to play with him- he doesn't seem to get it. Maybe you could try!
Frannie
Hey Y'all, I'm Frannie. I am the only grey colored donkey here and I am best friends with Darma. I help Darma and Angel take care of Josie and Bogo since I don't have any kids. I'm sort of like their aunt. Those two can be quite a handful sometimes. I love talking to people and being brushed. I also love when people give me snacks and take me for walks to eat grass. You can catch me hanging out with the other grown-up donkeys standing in the warm sun or next to the hay feeder.
Angel
Hello, my name is Angel. I am the darkest donkey here in the Donkey Den. I am shy sometimes so please go slowly when you want to pet me. Sometimes I get scared so if I walk away, it's not because I don't like you, but just want some space. Give me a few minutes and then you can try to come over again. My daughter is Josie, the spotted donkey. She is much more outgoing than I am- she must have gotten that from her dad.